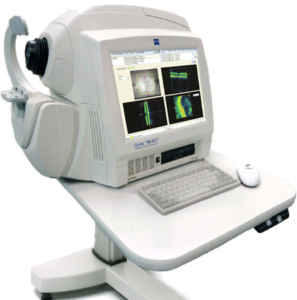 A thorough eye examination that includes a careful assessment of a patient's side vision (visual field) and optic nerves is essential to diagnose glaucoma early when it is most treatable. As one of the largest and most advanced glaucoma practices in the region, the doctors at the Omaha Eye & Laser Institute and Lincoln Eye & Laser Institute believe it is important for our patients to have access to leading-edge technology and expertise to properly manage their glaucoma.
The Cirrus HD-OCT is the first spectral domain technology instrument to offer high definition 3D maps of individual retinal layers to reveal pathology hidden within the retinal tissue. The Cirrus also automates patient and image alignment to ensure precision and measurement reproducibility critical to glaucoma patient assessment. These advanced imaging and analysis capabilities enable physicians to more confidently diagnose patients with retinal disease and glaucoma and monitor treatment results.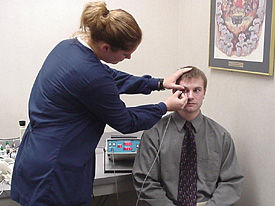 Corneal pachymetry is the measurement of corneal thickness. The accuracy of the measurement of intraocular pressure can be affected by a patient's corneal thickness. People with very thick corneas might have "high pressures" but actually not be at significant risk for glaucoma. Likewise, someone with unusually thin corneas might have"normal pressures" but in reality have high pressures and require treatment. At the Omaha Eye & Laser Institute and Lincoln Eye & Laser Institute, we measure the corneal thickness of all patients where corneal thickness could have a significant impact on the management of their glaucoma or ocular hypertension.
Other important diagnostic tests for glaucoma include visual field testing, gonioscopy, and careful assessment of the optic nerves by the doctor through a dilated pupil. Even while being treated, glaucoma can sometimes gradually progress. That is why it is so important to gather good baseline information to allow confident future comparison when the testing is periodically repeated.