Glaucoma is usually treated by lowering the pressure in the eye to a level that hopefully stops progressive damage to the nerve. The first line of treatment for glaucoma is usually topical eye drop medications. Fortunately, many glaucoma drops have been developed over the last few years with several more on the horizon.
We are pleased to have participated in numerous clinical research studies proving the efficacy of several new glaucoma medications. Glaucoma medications typically work by either reducing the amount of fluid produced inside the eye or by helping intraocular fluid drain out more efficiently. Some medications may actually do both. It is not uncommon to be on two or more medications at one time to treat glaucoma.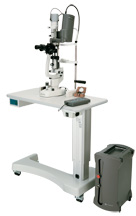 Once a patient is on two or more medications and they still need their intraocular pressures lowered more, it is likely they will need laser or other glaucoma surgery to further reduce the pressure in the eye if it is needed. At the Omaha Eye & Laser Institute and Lincoln Eye & Laser Institute, we are pleased to have the new Lumenis SLT laser for the treatment of glaucoma. We were the first practice in Nebraska and Iowa to offer this new laser procedure. Unlike previous argon lasers which caused significant scarring of the delicate tissues in the angle of the eye, the SLT causes minimal to no damage. The effect of the laser (both argon and SLT) on intraocular pressure often wears off after 1 -3 years. With the old argon lasers, there was a limit on being able to do repeat treatments due to the scarring of the laser. With the SLT this problem is resolved and patients can have repeated treatments as needed.
If topical medications and SLT laser treatments fail to lower intraocular pressure effectively, glaucoma surgery is an option. At The Omaha Eye & Laser Institute and Lincoln Eye & Laser Institute we are pleased to have one of the few glaucoma fellowship-trained ophthalmologists in Nebraska.
Dr. Sao J. "John" Liu is very experienced in advanced microsurgical techniques in the treatment of glaucoma including trabeculectomy and Molteno valve implantation. These procedures can be performed in our AAAHC certified ophthalmic surgery center.
iStent
All at once, I'm free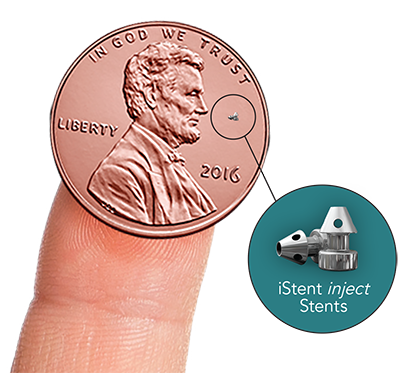 Cataract surgery and glaucoma therapy – all in one procedure.
If you've been managing your glaucoma symptoms with medication, and are now preparing for cataract surgery, iStent inject may be an ideal option for you. Around the world, iStent inject has helped countless people with glaucoma successfully manage their intraocular pressure. By taking advantage of this once-in-a-lifetime opportunity during cataract surgery, you can address both of these conditions at the same time.
In clinical trials, most patients are able to maintain normal eye pressure after the procedure 1,2
iStent inject has an excellent overall safety profile, similar to cataract surgery alone 1
Worldwide, Glaukos devices have been implanted in hundreds of thousands of eyes, with more patients benefiting from this technology every day.
How iStent inject Works
iStent inject includes two tiny implants, which make up the world's smallest medical device known to be implanted in the human body. To help control the increased pressure in your eye associated with glaucoma, iStent inject creates two bypasses, or openings, between the front part of your eye and its natural drainage pathway to increase the flow of fluid. By creating the permanent bypasses through the primary blockage site (trabecular meshwork), iStent inject is designed to improve your eye's natural outflow to safely lower intraocular pressure. This may allow your doctor to reduce or eliminate your need for glaucoma medication.
References:
iStent inject® Trabecular Micro-Bypass System: Directions for Use, Part # 45-0176.
Hengerer FH. Personal Experience with Second-Generation Trabecular Micro-Bypass Stents in Combination with Cataract Surgery in Patients with Glaucoma: 3-Year Followup. ASCRS 2018 Presentation.