If You Are Seeking LASIK In Omaha Or Lincoln, Please Read The Information Below: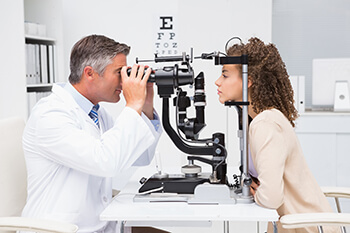 Each individual person has extremely unique eyes. Not all people are candidates for the LASIK eye surgery procedure. Like DNA samples and fingerprints, no two corneas are the same. This is why a pre-operative exam is absolutely necessary. Before LASIK is performed you will be required to undergo a series of diagnostic tests to determine the stability of your vision.
After a thorough evaluation of your cornea, the doctors will be able to determine if you are a candidate. This thorough diagnostic evaluation is the first step in creating a positive outcome for your best possible vision or personal best vision.
The doctors at the Omaha Eye & Laser Institute will provide the pre-operative eye exam that will set you on a path for determining your LASIK candidacy.
ALL refractive surgery or LASIK candidates will be required to undergo this exam. Many patients ask what is involved in this type of examination. Rest assured that the LASIK pre-operative evaluation is non-intrusive and not painful in any way. Below is a list of items that are typically involved with the evaluation process.
The measurement of corneal thickness, including corneal topography
Complete review of overall eye health
The measurement of your prescription or refractive errors
Custom LASIK measurement for higher-order aberrations
Dry eye test
Complete dilation to view the back of the eye or the retina
Glasses or contact lens history review
Measurement of pupil size
As part of your initial pre-operative LASIK evaluation, the doctors of the Omaha Eye & Laser Institute will give you a thorough education of LASIK eye surgery. This will involve the history of refractive surgery, any risks, the procedure process itself, and the successes of this amazing eye surgery. If you have been told in the past that you are not a candidate for LASIK eye surgery you might want to call us about the latest advancements. Depending on your unique visual situation, you may now be a candidate for the surgery.
LASIK Surgery Expectations
Your decision to have LASIK laser vision correction is a serious decision. Ultimately, you will be the one to make the final decision. When selecting a LASIK surgeon, it is important to select a surgeon that can honestly explain your visual needs. In 98% of LASIK cases, the visual outcome is 20/40 or better; however, this is a surgical procedure and risk is still involved, which is why selecting a surgeon with a vast amount of experience is important.
The ultimate goal of LASIK is to reduce your dependence on glasses and contact lenses. LASIK does not always create perfect 20/20 vision, though most cases are successful in improving vision. Ask the right questions before selecting your surgeon. Make sure that your surgeon of choice has the right answers, the best technology, and the experience under his or her belt to ensure a safe and effective procedure. It is possible that this is one of the most important decisions that you will ever make. These are your eyes and your life.
Selecting A LASIK Surgeon: Questions To Ask
How many laser vision correction procedures have you performed?
Are your practice and doctors credentialed with the American Academy of Ophthalmology?
What type of excimer laser do you use for LASIK eye surgery? Is this laser approved by the FDA and how does it compare to other excimer lasers?
How old is the excimer laser that you use in LASIK surgery?
Is the surgery painful? What can I expect after the LASIK surgery?
Do you have any LASIK references that I could talk to?