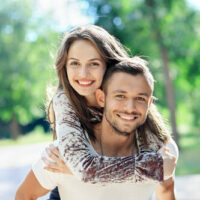 If you're tired of dealing with broken glasses and ripped contacts, it might be time to consider LASIK surgery. LASIK, which stands for Laser-assisted in situ keratomileusis, is a common elective procedure that can correct vision problems such as myopia (nearsightedness), hyperopia (farsightedness), and astigmatism (distorted or blurred vision). Custom iLASIK offers additional benefits to the patient thanks to new technological advancements. Read on for 6 facts about custom iLASIK.
1.  It's Bladeless
Conventional LASIK requires your laser eye surgeon to create a tiny flap in the corneal tissue. This allows the laser to reshape the cornea and allow light to focus properly on the retina. When light focuses properly, the refractive error is corrected. LASIK on each eye takes about 15 minutes, and once the laser has finished its job, the surgeon places the corneal flap back in place, where it will heal without sutures within a few days. With custom iLASIK, sophisticated Wavescan technology is used, including lasers that create both the necessary flap and correct the refractive error.
2. How Do You Know If You're A Candidate For Custom iLASIK?
If you prefer to use the most advanced technology currently available to correct your vision, custom iLASIK may be for you. Custom iLASIK can be a good choice for those with large pupils, as well as higher or lower order vision aberrations.
 3. Advantages Of Custom iLASIK
Custom iLASIK is 100 percent customizable for every patient, and gives patients a better chance of achieving 20/20 vision, or better! Custom iLASIK offers patients a better chance of keeping the visual quality originally achieved during the procedure. There is a lower correlation with custom iLASIK for postoperative halos and glares from bright lights and headlights. Best of all, Wavefront technology removes the possibility of human error due to increased accuracy when the corneal flap is created. This reduces the possibility of complications resulting from LASIK.
 4. Custom LASIK Is More Effective
Conventional LASIK is only capable of treating lower-order aberrations, but custom iLASIK is capable of treating both lower and higher-order aberrations or deviations from normal vision. Higher-order aberrations may affect your vision clarity and reduce your ability to see in low light situations. Higher-order aberrations produce symptoms such as halos, double vision, glare, and blurry vision.
 5. Requirements For Custom iLASIK
Just like conventional LASIK, custom iLASIK also has a strict set of requirements that patients must meet to be considered good candidates for the procedure. For those with severe astigmatism, severe myopia (nearsightedness), and small pupils, custom iLASIK may not be the right fit.
6. Cost Comparison
Prices for custom iLASIK do vary by state, region, and the type of facility you select for your refractive eye surgery, but the bottom line is that custom iLASIK is going to cost you significantly more than conventional LASIK. In 2017, the average cost of conventional LASIK surgery was $2,088. If you qualify and opt for custom LASIK, your total for both eyes is likely to be around $6,000.
Want to learn more about custom iLASIK and see if you qualify? Schedule a free LASIK consultation with the friendly doctors at Omaha Eye & Laser Institute!