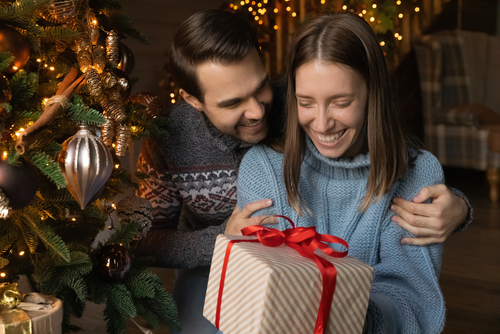 Looking for the best gift idea this holiday season? The answer might be closer than you think. In fact, it might be the very eyes you are using to search for gifts online and in stores.
Wouldn't it be nice to buy holiday gifts for your loved ones without cleaning off your glasses or a contact slipping out? That's what makes LASIK the best gift this holiday season.
Whether it's for yourself, or for a loved one, when it comes to boosting holiday cheer, there is no better gift than clear vision. LASIK is a simple outpatient procedure that takes less than an hour to complete.
Most LASIK patients end up with 20/20 vision or better after LASIK. The best part is that for most, glasses or contacts are no longer needed to see. What could be better than that? That's what the gift of LASIK brings.
Keep reading to find out what you need to know about LASIK, and why it is the best gift this holiday season!
The Most Common Procedure
LASIK surgery is a completely routine, quick, and painless procedure. In fact, LASIK is the most commonly performed procedure you can have. Millions of people have experienced what it's like to have their vision corrected.
LASIK Surgery
When you go in for your LASIK procedure, you will go to your eye doctor. They will numb your eyes using numbing eye drops. If you're nervous, let your surgeon know. They can give you a sedative like Valium to calm you down.
Your surgeon will then create a small incision on your cornea. It is through this small incision that a laser will be used to reshape your cornea. Your vision will be corrected by reshaping your cornea and correcting any refractive errors.
LASIK only takes about 15 minutes per eye to complete! Who can say no to permanently clear vision in that short a period of time?
After a short recovery, you will be enjoying your life without the need for contact lenses or glasses.
1. See All the Lights Clearly
One of the best parts about the holiday season is all the festive lights and displays. Whether in your neighborhood, along city streets, or at major attractions, make sure you get to see it all with clear vision.
Visual freedom will finally be yours after having LASIK! LASIK is just the gift to make that happen.
2. See the Slopes With Clarity
Got a yearly ski trip planned? Wouldn't it be more enjoyable if you could see the slopes with clarity and without needing contacts or glasses?
If you love to ski, LASIK will make your next trip to the slope unforgettable!
3. Flex Dollars – Spend Them or Lose Them
A flexible spending account is a great investment into your health. But what do you do when you have a surplus of flex dollars at the end of the year?
They don't roll over into the new year, so you can either spend them or lose them. Why not spend them on the best investment you can make on your eyes?
Use your flex dollars to give yourself – or a loved one – the gift of clear vision. LASIK is that gift.
Ready to leave contact lenses and glasses behind this holiday season? The first step in the process is a LASIK consultation. Schedule yours today with Omaha Eye & Laser Institute in Lincoln, NE.
Why wait any longer when vision like you've only dreamed of is within reach?