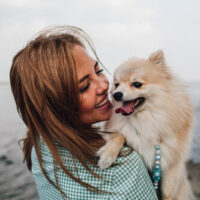 Cataracts don't only affect humans. In fact, our beloved dogs can also develop cataracts as they age. For humans and dogs, untreated cataracts will lead to an eventual and total loss of vision. Cataracts can be removed with cataract surgery to restore vision.
When it comes to dogs, insurance is a little tricky. Many patients who have cataract surgery use Medicare to lower the costs. If you don't have pet insurance, cataract removal could get expensive for your dog! Keep reading to learn more about what happens when dogs have cataracts!
Canine Cataracts
Dogs can develop canine cataracts. Don't bring your dog to your ophthalmologist: they can't help. The first step if you suspect your dog may have cataracts is to take them to the vet.
Your vet will be able to recommend a veterinary ophthalmologist you can take your dog to. Yes, veterinary ophthalmologists are a real thing, we promise!
Veterinary Ophthalmologist
You might be surprised to learn that this veterinary specialist exists. When dogs start developing cataracts, you may notice they start bumping into things. If you think that your dog has developed cataracts, you should bring them to a veterinary ophthalmologist.
During this appointment, the doctor will diagnose and see if the cataract can be operated on. Your veterinary ophthalmologist will also talk about if their sight can be restored.
Cost Of Canine Cataract Surgery
There is no set cost for canine cataract surgery. How much cataract surgery for your dog will cost depends on these factors:
Anesthesia: Many veterinarians have fluctuating costs for anesthesia. which often depends on the size and weight of the dog. Smaller dogs will cost less to put under, while larger dogs will be more expensive to put under.
The cost of pre-op and post-op prescription eye drops, as well as medications.
Whether your dog has developed a cataract in one, or both, eyes. If your dog has cataracts in both, the ophthalmologist will discuss if it's best to treat both. The cost differs if you are treating one eye at a time.
The cost of lab work. This depends on the dogs, and which tests are needed.
In canine cataract surgery, artificial lens implants replace the clouded lens. This is how cataract surgery is performed on humans! The artificial lens, or IOL, allows your dog to have restored vision. Thanks to the IOL, they will see sharp images at close range once more. This cost changes depending on if your dog needs an IOL in one or both eyes.
How your dog heals. There are very few complications associated with cataract surgery. This is the same for canine cataract surgery. If your dog does develop complications, extra visits may be required.
It may seem odd to think about cataract surgery for dogs, but they are family. If you've had cataracts, you understand why removing them is the best option. This includes dogs! As we grow older, even our eyes change.
Cataract surgery doesn't have to be scary. If you need to take care of your cataracts, contact Omaha Eye & Laser Institute in Lincoln and Omaha, NE! We can't treat canine cataracts, but we can help you get your sight back!