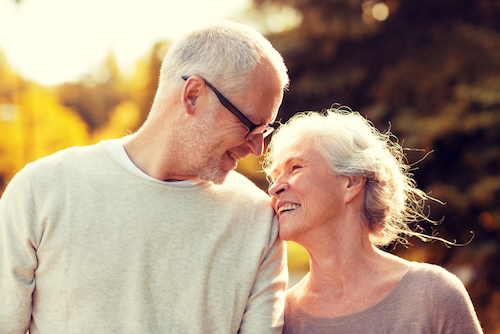 The good news is, there are steps you can take to reduce your risk of going blind from cataracts. First, let's review the symptoms of cataracts and how to know if you should have cataract surgery.
What are the symptoms of cataracts?
Cataract symptoms include cloudy vision, halos from light, sensitivity to light, difficulty seeing in low light situations, frequently changing eyeglass or contact lens prescriptions, and double vision in one eye. Health experts recommend yearly eye exams starting at age 40 to get a vision baseline to better track and treat vision changes as they occur.
These initial changes in vision may not be enough to get you to the eye doctor, though, as the initial cataract may be too small to notice vision loss. Most cataracts develop slowly and don't disturb your eyesight for a while, so early cases are often treated, or managed, with prescription eyeglasses. Often, these eyeglasses have anti-glare lenses to reduce the halo effect that happens when driving at night.
When should I get cataract surgery?
Cataracts can result in permanent vision loss if left untreated. Before things get that serious, though, you'll likely notice a strong sensitivity to light and light glare, and that those eyeglasses that used to help no longer do. These changes may signal a need for cataract surgery. No need to worry! Cataract surgery is proven to be a safe and effective procedure.
4 Tips to Lower Cataract Risk
You may not be able to avoid developing cataracts entirely, but there are a few ways to strengthen the odds in your favor and slow the progression of cataracts.
Avoid heavy drinking
Excessive alcohol consumption can damage every organ in your body, as well as lead to an increased risk of cataracts. In one study completed by Boston University, more than two drinks per day increased the participant's risk of cataract surgery.
Avoid smoking
Cigarette smoke is seriously toxic. Not only does it affect your lungs, smoking has been linked to cataracts and macular degeneration, two leading causes of vision loss. If you smoke, ask your doctor for suggestions and strategies to quit. Your eyes will thank you for it!
Wear sunglasses with UV protection
UV light from the sun can be a contributing factor in the development of cataracts. Sunglasses with UV-resistant lenses can block your eyes from damage caused by the sun. UV-resistant sunglasses can be purchased at nearly every optical shop.
Schedule regular eye exams
As mentioned earlier, annual comprehensive eye exams should be scheduled for anyone over the age of 40. Routine eye exams can help catch cataracts early on, which results in fast treatment and significantly lower risk of going blind from cataracts. Ask your eye doctor for a recommended schedule and stick to it.
Cataract Surgery, Omaha
The best way to treat cataracts is to remove them during cataract surgery. The cloudy lens will be replaced with an intraocular lens implant, also known as an IOL. Your IOL implant will vary depending on your vision needs, such as whether or not you're nearsighted, farsighted, have astigmatism, etc.
At our Cataract Center in Omaha, you'll meet with an expert cataract surgeon to review your IOL options for cataract surgery. Have questions about cataract surgery or which lens implant is best for you? Schedule an appointment for cataract treatment in Omaha today, or give us a call at (402) 493-2020!